This design standard gives typical examples for exchanger piping and horizontal and vertical reboiler data.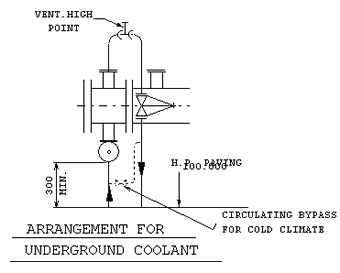 Example of cooler piping arrangement and clearances
 

Typical
Exchanger
Arrangement

Type
of
Tube
Bundle

Construction
Designation

Typical use
(see terminology
and typical functions
info further below)

Possible alterations to typical arrangments without affecting thermal design (see note 1)

Interchange
Flow Media
Note 4

Direction of Flow Change

Nozzle Relocation

Shell
Side
Tube
Side
Both
Sides
Note2
Note3

1

Floating
Head

Single Pass Shell
Single Pass Tubes

Exchanger
Cooler
Heater

*

-

-

V

V

V

2

Single Pass Shell
Even Pass Tubes

*

V

V

V

-

V

3

Two Pass Shell
Even Pass Tubes

*

-

-

V

-

-

4

Divided Flow Shell
Even Pass Tubes

Condensor
Evaporator
Reboiler

-

-

V

-

-

-

5

Double Split Shell
Even Pass Tubes

-

-

V

-

-

-

6

U-Tubes

Single Pass Shell
Even Pass Tubes

Exchanger Cooler
Heater
(in clean tubes
side service)

*

V

V

V

-

V

7

Two Pass Shell
Even Pass Tubes

*

-

-

V

-

-

8

Kettle Type
Reboiler

Reboiler-steam
Generator-Vaporizer

-

-

-

-

-

-

9

Fixed
Tubesheet

Single Pass Shell
Single or Odd Pass Tubes

Exchanger Cooler
Heater (in low
temperature
clean service
shell side)

*

-

-

V

V

V

10

Single Pass Shell
Even Pass Tubes

*

V

V

V

-

V

11

Double Pass Shell
Even Pass Tubes

*

-

-

V

-

-
Tabulation of typical exchangers and possible alterations for better piping
Notes typical exchangers:
Alternaterations must be reviewed with exchanger engineer and/or process engineer
Possible rotation of tube side nozzles 180 degree
Possible rotation of shell side nozzles 180 degree
May be considered only as a last resort since re-rating of exchanger would be required(*).
General Notes Mobile Servicing Equipment:
Mobile servicing equipment (similar to that is shown) is generally used toe service exchangers
Conditions that would preclude the use of this type of equipment are as follows

Equipment location that, due to plot limitations and/or process requirements, do not permit acces of mobile equipment
Equipment weights in excess of normal mobile maintenance equipment capacities
Equipment elevated, too high for practical use of normal mobile maintenance equipment

Additional servicing facilities (not shown) include:

Gantry cranes
Permanent structures with trolley beams and hoists
Monorail system in building or structure
Overhead frame on exchanger for troley hoist

The design of exchanger associated piping includes proper consideration of maintenance requirements such as:

Routing and supportin piping so that no temporary supports are required when removing channel and/or tube bundle or that, if necessary, temporary supports can be easiliy built
Providing easily removable spool-pieces when required or routing piping to provide adequeate clearance for bundle removal or servicinb equipment. This necessitates a clear understanding of client clearance requirements and a knowledge of intended servicing equipment at the start of a project
Terminolgy and typical functions of shell and tube heat exchangers
Exchanger heats one stream, cools the other
A physical change does not take place in the flowing media:
Cooler - cools liquid or gasses without condensation (other designations: intercooler, aftercooler, condensor)
Subcooler - condeses vapor and further cools the condensed
Condensor - condenses vapor or vapor mixture
Chiller - uses refrigerants for cooling process stream below prevailing water temperature
Heater - heats process stream (other designation : preheater)
Reboiler - reboil the bottom stream of the fractionation process
Waste heat exchanger - uses waste heat (for example: process effluent gas or engine exhaust gas for steam generation)
Steam generator - uses heat of process liquid or gas for producing steam
Vaporizor - vaporizes part of a liquid stream (other designation: evaporator)
Stacked exchanger notes:
Limited to 4 shells high in similar service and not to exceed a maximum elevation of 5500mm
Nozzle and saddle protection shall be such as to allow space for shims between saddles
Stacked exchangers in series flow and close coupled shall be arranged per vendor's design

Alternate nozzle locations

Slotted or oversize holes in one saddle
Anchor location to be determined by piping configuration
Angular, tangential or elbow nozzles may be used in series, parallel or dissimilar services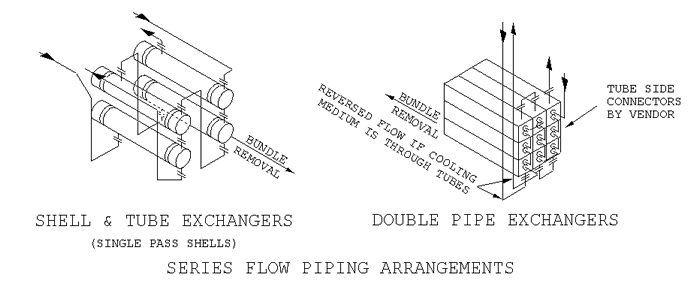 Reboiler notes:
Horizontal reboilers shall be as close to the tower as practical with a minimum amount of pipe and elbows. The piping shall be stress analyzed as soon as the layout is firm. Support and anchor points shall be established at this time.
The following information is required by the piping designer in order to layout thermal siphon reboilers:

The elevation of the tower tangent line above grade
The elevation of the first tray and the reboiler return line
The length of the reboiler tubes and the type of outlet on the reboiler on the exchangers
The dimension from the tangent line to the tubesheet on vertical exchangers and bottom of horizontal exchangers
Most of this information is shown on the flow diagrams, vessel and reboiler specifications. The design shall review the layout with the process engineer to ensure that complete agreement is reached

Avoid locating the reboiler return line under the downcomer. The top of the return line shall be a minimum of 12 inches below the bottom tray or 6 inches below the seal pan if the return line must be located under the downcomer.
Allow sufficient room for removing tube bundles on vertical reboilers. Allow sufficient room to remove shell cover to grade.